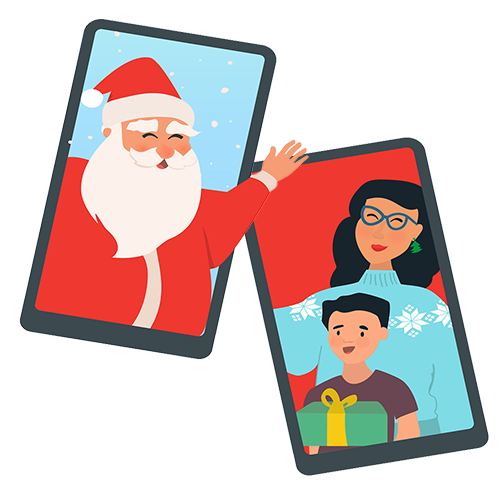 Join us for our 37th Annual Santa Pictures – Virtual Edition!
Santa is having us set up a Zoom meeting with all of you, just like your teachers have done recently.
Get your wish list ready – With Zoom Meetings, Santa is able to have more one on one time to visit with you!
To join this year's event, you will need to fill out the form below.
Once you've completed your sign up form, you will receive a confirmation email. We will also send a follow-up email closer to your chosen day that includes the link and password to log in!
Now, once it's your time to join Santa's Zoom meeting, you will log in and join the elves while they read Christmas tales! They'll read Christmas stories while you wait for your turn – Each kid will have five minutes with Santa, so it'll be just like waiting in line to see him!
Once it is your turn, Santa's helper elf will let you know how to move into your Breakout Room. (Parents: There will be a notification on your screen asking you to join the Breakout Room, please keep an eye outfor that!) Now kids, don't forget to show Santa your coloring sheet and list, he will be expecting them! The two of you will have time to talk about what you want for Christmas, ask questions, and take a picture together. (Parents: We will screenshot your child's screen side-by-side with Santa's screen, and then edit them into a Christmas themed frame to send to you!)
Once you're finished, we will put together your Christmas photo with Santa and send them to your parents by the end of the following week! Merry Christmas, and see you soon!